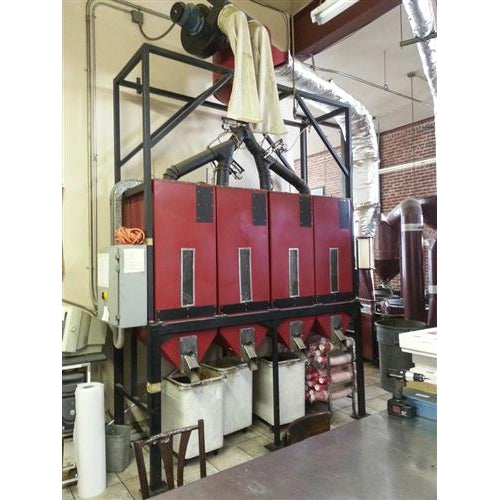 Roasted Coffee Storage Silos (Stoner Fed) - please call or email to complete purchase
Sorry, this item is sold out. But we're here to help! We may have other equipment that isn't on the site yet, so let us know what you need and we'll help you find it.
Contact us
, USA 800-999-1600, International +1-650-556-1333
ROASTED COFFEE STORAGE SILOS (STONER FED)
Make an offer - as this has to move. Located San Francisco Bay area.
This unit needs to be removed to make room for big walk-in cooler - and it can be changed radically to fit most any situation. The actual de-stoner is sitting next to the cooler on a 90 kilo Probat (although this stoner/storage silo is not limited to any size as the stoner does not know how big the cooler is - it only knows to keep going until it is empty.
The stoner lifts coffee up to a surge hopper above - then gravity feeds down to the bin that you told it to go . . . however, there are several options on how such a silo gets loaded - everything from a suction wand to other configurations of the gravity one pictured . . . as this is a discussion topic. The top section stands alone and can easily be removed. The actual storage silos stand alone and they can be easily removed - or even be made taller shorter to fit your building. Then the base can be altered accordingly. Notice the control box on the left side - that is 21" wide x 24" tall and 10" deep and that can be mounted on any wall or right where it is . . . totally movable.
92.5 inches wide - that is just short of 8 feet overall length. 
8' tall for the main storage plus the stuff on top that may end up being changed.
36" wide on the stand - but actual storage is 32" - 19.5 cubic feet or 400 pounds roasted coffee.  Can be used for green coffee - 850 pounds+ 
You can install any space saving loading blower, vacuum or even augar . . . green or roasted whole bean.  Basically there are so many configurations or ways to use this unit - it is just great to find something so well preserved, as this has been sitting unused for at least 15 years even though the actual coffee operation is very active - just did not use this particular configuration.
Call for details and get ready to wrench and lift.