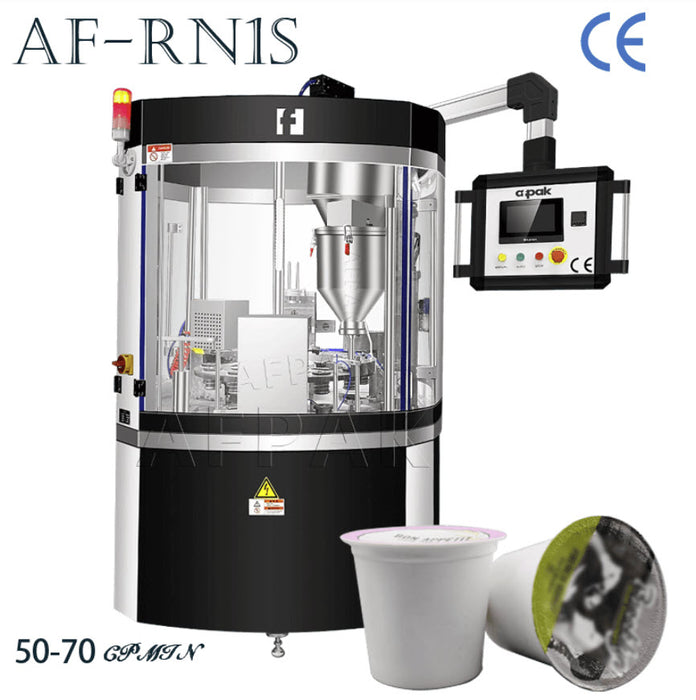 Rotary AFPAK K-Cup Filling and Sealing Machine - 4200 cph - New
Save

Liquid error (snippets/product-badge line 32): Computation results in '-Infinity'

%
Here's your K-Cup Filling and Sealing Machine!

50 - 70 cup fills per minute, 4200 per hour
CoffeeTec is the proud exclusive distributor in North America for Afpak's Rotary Equipment.
This is AFPAK's model AF-RN1S rotary type coffee capsule filling and sealing machine with Nitrogen Flushing and tons of options to suit your specific application. 
This state-of-the-art coffee capsule filling machine has an all stainless steel construction and open design, making it easy to operate, clean and maintain. It has one single, fast, working lane and can produce 50-70 sealed K-Cups or Capsules in just one minute. It also has superior sanitary design and rugged construction.
(IMPORTANT: This machine pricing INCLUDES the Chinese/USA 25% Tariff fee. Read about it here. Does NOT include shipping from manufacturer and freight from port to destination.)
 WATCH IT IN ACTION!
Small footprint, fast speed, easy to operate. Quick installation and safe to operate. No special maintenance needs. 
This is an ideal K-Cup & Nespresso filling and sealing machine for startup and medium size coffee companies.
This machine works with pre-cut lids and requires an external supply of air pressure. Nitrogen is optional. Contact us for more details.
Lids are applied by both heat and pressure.
FEATURES:
Capsules dropping to the mold
No capsules no filling sensor
Filling (5 - 20g adjustable) with vacuum coffee feeder
Edge cleaning and tamping
No lids no sealing sensor
Adjustable sealing (0-400 cent degree)
Optional output to the conveyor
Servo Motor drive
High accuracy
Stable and reliable working performance
Can handle cups with filter already in and not. Just tell us which way you want it
Works with compostable cups
OPTIONS:
Nespresso Plate
Change out the K-cup mold for Nespresso for capsules.
Add $3,600


Ionizer
Anti-static

 

system to help prevent static electricity in coffee powder improving the filling efficiency and cleaner lid sealing.
Add $1450.


Outfeed Conveyor Belt with Counter.
Belt feed away from machine with digital cup counter.
Add $2,850.


Additional Powder Doser
For different product powders, i.e. switching between coffee and tea producing more products on one machine.
Add $5,600
Inline Weighing System
Checks the weight of each final cup, rejects inaccurate fills.
Add $2,850


Filter Inserter/Cutter
Inserts and welds filters into bottom of cup set up. For Nespresso capsules only.
Add $6,950.


Auto-Sort Cup/Capsule Feeder
Sorts different filled cups upon exiting conveyor belt.
Add $4,200.


Pouching/Packaging Machine
To pack 1-20 Nespresso capsules into a single bag, less for K-Cups. One size bag.
Add $18,215.


Box Packager
Unfolds and feeds boxes into parallel track allowing machine to fill and close. Price varies based on box size. Packages 10-30 boxes per minute, 10-30 per box. Different package formats require different box packaging.
Requires quote. $75,465 - $110,000.


Nitrogen Generator / Air Compressor / Storage Tanks
Spec'd for this machine. Air compressor will run the RN1S as well as charge the Nitrogen Generator. Requires 3 phase power
Add $12,350.
Overview:
1. Vertical capsule dropper
2. Cup sensor - if cup holder is empty the machine will not fill that slot
3. Ground coffee filler - by servo-controlled auger
4. Edge cleaning
5. Nitrogen filling tube
6. Pre-cut lids placement
7. Lid sensor
8. Lid sealer
9. Cup output
10. Cup sensor - if lid had not been placed correctly the cup will not be lifted by arm. Machine will stop.
Details:

| | |
| --- | --- |
| Working lanes | 1 |
| Type | Rotary |
| Capsule feed | Vertical |
| Drive Type | Motor drive, 220v single phase / 60Hz / 30amps |
| Output | 50-70 cups p/min; 4800 p/hr |
| Filling accuracy | +/- 0.2 grams |
| Machine weight | 1653 lbs. / 1800 lbs. Shipping |
| Dimensions | 90"x80"x100"  (LxWxH) |
| Power Consumption | 1.5 Kw/h |
| Nitrogen Consumption | 50-100L/min 0.1 Mpa |
| Air Pressure Consumption | 100-200L/min 0.6-0.8 Mpa |
| Warranty | 2 year mechanical, 1 year electrical |
For insights on cup and lid costs, here are estimates.
CoffeeTec contact for K-Cup & Nespresso cups & capsules & other supplies:
Susanne Kath
North Atlantic Specialty Bag
608-362-0999 ext. 1005
(Estimated Only with lids already cut/punched))
- Basic recyclable K-cup with lid averages .10 ea., with minimum orders of 3000.
- Compostable K-cups average .25 ea. with minimum orders of 3000.
- Custom printable lids, add .06 ea.
- Larger quantities available at discount pricing. 
CONTACT SALES @ 650-569-0011 to discuss getting this to your roastery!

All equipment sold as-is. Crating and Shipping not included in the listed price.