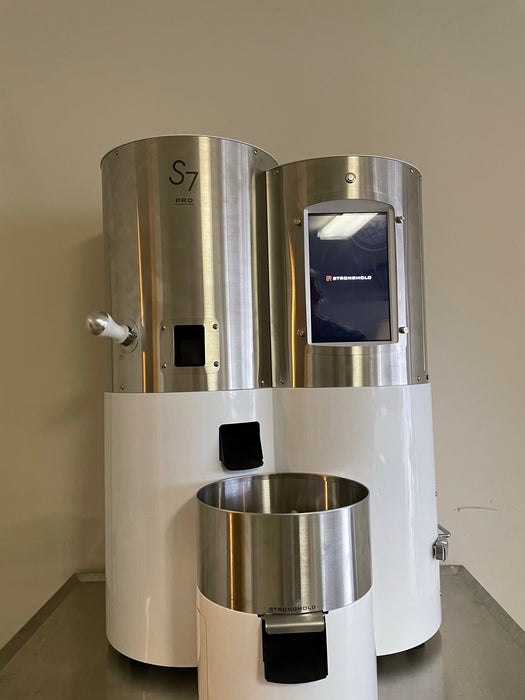 Stronghold S7 Coffee Roaster - Used - Just Listed
Sold out
Original price
$10,900.00
Sorry, this item is sold out. But we're here to help! We may have other equipment that isn't on the site yet, so let us know what you need and we'll help you find it.
Contact us
, USA 800-999-1600, International +1-650-556-1333
Does It Start My Car and Fold My Sheets Too???
If you want to see the cutting edge in coffee roasting technology, you need to see this beauty. The Stronghold Technologies S7 Coffee Roaster is nothing like you've ever seen before. Loaded with automation and sophistication. Sexy and sleek. And boasts to roast like no other.
And, this manufacturer as been around now over 10 years.
All of the Stronghold S-series roasters are designed as shop roasters or small production roasters with electric power and a combination of convection, radiation and conduction heat inside a heavily insulated vertical tower drum. (See Video Below)
Created for "smart" replication of automated roasts, the machines also feature a wide touchscreen for live roast management, roast logging or roast profile searches.
Capacity: 150g – 850g (0.33 lb. – 1.87 lb.)
It might as well be brand-new!
Only has 85 roasts on it! Current owner used it for home roasting.
Letting this sweetheart of a machine go - as a hobbyist, simply doesn't need this level of a roaster. 
Makes a fantastic roaster for home roasting, small shop, or sample roasting.
Located in Central US. 
You better snatch this one up right now!
FEATURES
User-friendly touchscreen interface

10.1" display

Sensors
Internal/Tower Drum/Hot Air/Exhaust temp

20 level discrete control over
convection and radiation heat

ROR & DTR display

Automatic profile data logging

Manual/Program mode

Profile Auto Replication

Safety Features
(emergency discharge, automatic shutdown, etc.)

Fast cooling
(Room temperature in 1.5 min)

Automatic system upgrade
(Android OS)

W X D X H




25.59 X 24.40 X 34.84 inch
Weight
72kg(159lb)

Maximum Bean Input Weight
850g (1.87lb)

240V power
Articles on this Amazing Coffee Roaster

Stronghold Roasters Stuns On the SCA Show Floor
Daily Coffee News - Roaster Maker Sronghold and ColorTrack Partner for Product Development
Direct links to Stronghold site info

Stronghold Coffee Roaster Website
Plan your roast without worrying about the over-heated drum temperature from previous roast.

Traditional gas roasters are slow to react to different heat demands. Consequently, it takes longer to heat up and cool down. Controlling heat transfer becomes even more difficult as the drum becomes hotter and hotter during consecutive roasts. For this reason, roasters are constrained to roast light before going darker.

On the other hand, S7 Pro has eliminated all the constraints of traditional gas roasters and allows any level of roast at any time. The internal temperature and the temperature of the drum wall itself are measured and can be controlled, and it reacts to different heat demands quickly and reliably.
Both drum interior and drum wall temperatures can be preset to exact temperatures you want.

The first and foremost element to invariable replication of saved roast profile is the consistent temperature of the air inside the drum and of the drum wall when the bean is inserted.

Measurement of traditional gas roaster's drum wall temperature was simply not available and even when measured, the same temperature rating would yield different roasting results due to the difference in external environment, bean condition, and other uncontrollable variables. Though equipped with a variety of other measurement sensors, traditional roasters could not accurately predict the roasting trend without accurate and continuous temperature measurement of the drum wall.

The smart roaster S7 Pro measures temperature of the drum wall and the interior, and preheats them to the target temperatures. The Tower Drum sensor is embedded inside the stationary 5 layer drum structure and continuously measures and adjusts its temperature to perfectly mark the target temperatures.
There is no need to be waiting in front of the roaster while preheating. S7 Pro will let you know when the drum reaches your preset temperatures.

Set the two preheat temperatures, Internal and Tower Drum temperature. The machine automatically heats up until both preset temperatures are reached. The message 'Preheat complete. Ready to roast' pops up on the screen with an alarm notification.
No need to set a timer nor constantly check the thermometer. S7 Pro will notify you when it is ready for another batch at the exactly same preset temperatures.
Delicate control over the heat source enables perfect roast every time.

You can discretely control the hot air (convection) and the halogen (radiation) intensity from 0 to 20 levels. Precise and discrete control over the two heat sources allows users to develop and explore a wider range of flavors.
Smart is now smarter with additional features.

During the preheat stage, potential external effects are taken into consideration and makes micro level heat adjustments to minimize error between planned and actual roast trends.

1. Additional measurements and features offer roasters more control over the roasting environment. 2. ROR (Rate of Rise) and DTR (Development Time Ratio) displayed
3. Hot air and Exhaust temperature
4. 10 level control over stirring wing speed
5. Advanced data logging feature
All measurements are displayed real-time.
Prevent post discharge development of beans with 3x faster cooling

The cooling fan cools down the temperature of roasted beans to the room temperature within 1 min. 30 sec, which is approx. 1/3 of the time required by other roasters. Faster cooling prevents the residual heat from further developing the beans after discharging.

*Relationship between cooling time and coffee flavor: According to a research, cooling duration after roast can have a significant impact on the flavor of beans. Exceeding 4 minutes, 'sweetness' of beans is significantly reduced. In general, the longer it takes to cool, the higher chances of over-roasted or parched beans, resulting in imbalanced taste.
No need to wait for the roaster to cool down. Turn it off as soon as you are done roasting.

5 layer drum structure is designed to react quickly to change in heat control and to ensure greater durability. Unlike the traditional drum roasters, with which the user had to wait for the roaster drum to cool down to prevent deformation, the S Series has eliminated such inefficiency as it can be immediately turned off and still be entirely safe from deformation.
Roast consistency is guaranteed with our proprietary advanced replication algorithm.

Stronghold's X-Lab has spent years developing and improving its proprietary profile replication algorithm to achieve unprecedented level of replication precision and consistency. Our algorithm takes replication to the next level by automatically sensing and reacting to the change in external factors and making heat adjustments according to the difference to arrive at the perfect replication beyond human capabilities.
Optimized for roasters to explore and develop their perfect roast profile.

S7 Pro is the best option in the market to learn about and explore different flavors of coffee. Reliable roasting data is readily available through integration of advanced sensing technology and the embedded software of the S Series. Saved roasting profiles can be easily managed and analyzed digitally without the old-fashioned profile log notes.
In addition, replication mode can be switched to manual mode during the roast, allowing the roaster to tweak around and test how each tweak can affect the flavor.