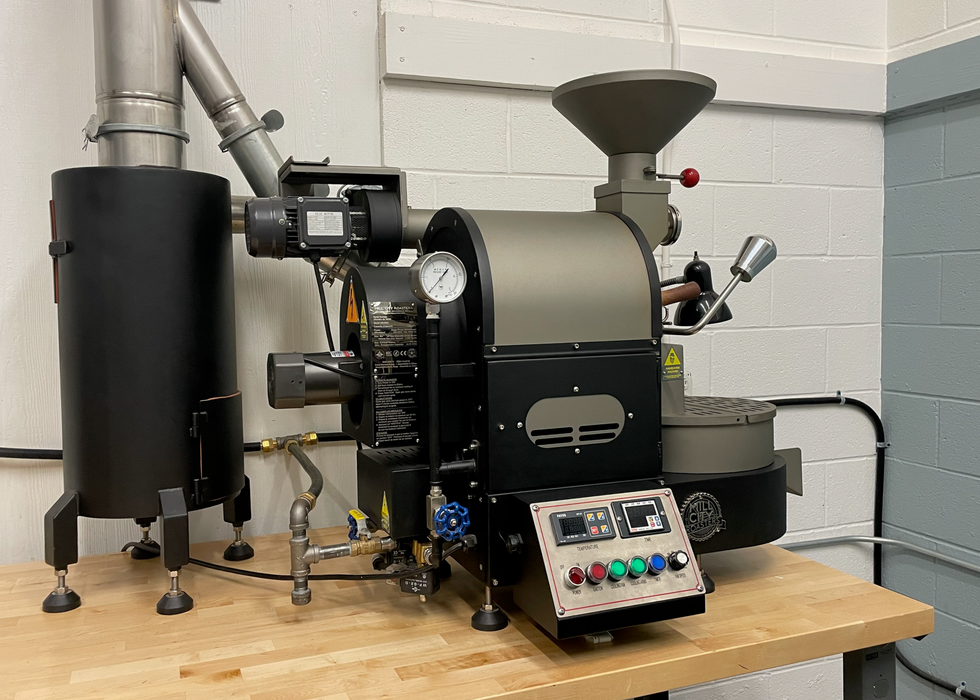 1k Mill City Roasters MCR-1 Roaster 2020 - Excellent Condition - Used
Save

Liquid error (snippets/product-badge line 32): Computation results in '-Infinity'

%
k Mill City Roasters MCR-1 Roaster 2020 -Excellent Condition - Used
Build Quality

The 2020 Mill City Roasters MCR-1 is known for its heavy-duty construction, featuring solid plates and certified food-grade stainless steel materials. This construction ensures durability and longevity, making it suitable for industrial settings.
Roasting Capacity:
The roaster has a batch size range of 200 grams to 1.5 kilograms, giving you flexibility in the amount of coffee you can roast in each batch.
Batch Time:
The batch time is approximately 15 minutes, which means you can roast multiple batches in an hour.
Production Output:
The roaster has a production output of 13 pounds per hour (or 6 kilograms per hour) and can produce up to 106 pounds (48 kilograms) of roasted coffee per day. This makes it suitable for larger-scale coffee production.
Stability and Control:
The MR-1 is designed for greater stability and control during the roasting process. Its heavy construction helps provide stability, and it offers superior control for achieving specialty coffee roast profiles without heat defects.
Heat Distribution and Consistency
The roaster is engineered to provide more uniform heat distribution, ensuring even roasting of the coffee beans. This contributes to better consistency in the roast.
Data Logging:
The MR-1 is equipped with data logging capabilities that are compatible with software like Cropster or Artisan. This allows you to monitor and record roasting data for quality control and analysis.
Venting System:
The roaster comes with a complete venting system, ensuring proper ventilation during the roasting process. This is essential for maintaining air quality and safety in the roasting environment.
Drum and Thermocouples:
The roaster features an upgraded drum with a new ball bearing for improved performance. Additionally, all thermocouples, including Bean Temperature (BT), Environment Temperature (ET), and Drum Temperature (DT), are upgraded to high-accuracy K-Type probes for precise temperature monitoring.
Overall, the Mill City Roasters MR-1 is a robust and efficient coffee roaster designed to meet the demands of industrial coffee production while providing advanced control and data recording capabilities for specialty coffee roasting.
CONTACT SALES DIRECT @ 650-569-0011 to discuss getting this to your roastery!
All roasters are sold as-is. Crating and Shipping not included in the listed price.
QUICK VIEW:
| | |
| --- | --- |
| CONDITION: | Excellent |
| LOCATION: | Midwestern USA |
| YEAR BUILT: | 2020 |
| LAST USED: | March 023 |
| MAINTENANCE: | Fully cleaned every 6 months |
| MANUALS: | Online |
| HEAT: | Propane |
| POWER:  | 220v Single Phase |
| DIMENSIONS: | 41.36"L x 32.75"W x 35.76" H - Weight 199lbs |