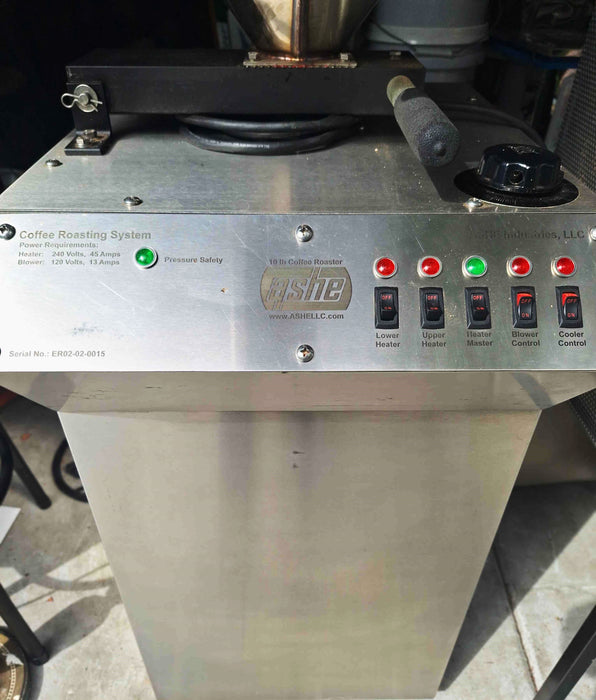 Ashe 10Lb Coffee Roaster - 2014 Model - Very Good Condition - Used
Save

Liquid error (snippets/product-badge line 32): Computation results in 'NaN' (Not a Number)

%
Request a Quote
Request a Quote
Ashe 10Lb Coffee Roaster - 2014 Model - Very Good Condition - Used
Are you in the market for a reliable and well-maintained coffee roaster for your coffee roasting business ...  Look no further!
Key Features:
Year: 2014
Type: All Electric
Roasting Capacity: 10lbs (4.5 Kilo)
Electrical Requirements: 220/240v Single Phase
Chaff Collector: Included



Superior Roasting Technology: Fluid bed air roasting or hot air roasting is considered superior for roasting coffee. It provides benefits that were not achievable with older drum-style roasting systems.

Development Timeline: This technology became possible only when efficient electric blowers and electric heating elements became commercially available. This suggests that it's a relatively modern development in the world of coffee roasting.

High-Velocity Heated Air: Airpro roasters use a stream of high-velocity heated air. This air is delivered through a patented High Residence Time heating system, which plays a key role in the roasting process.

Levitation and Circulation: The high-velocity heated air is used to levitate the coffee beans and circulate them within a bath of hot air. This method ensures that the beans are evenly exposed to the hot air for consistent roasting.

Direct Heat Transfer: The heat transfer to the coffee beans is direct and occurs through convection. This allows for uniform heating of individual beans, resulting in a more even roast.

Consistent Uniform Roasting: Using a purpose-built ASHE hot air roasting system designed specifically for coffee roasting helps achieve a consistent and uniform roast batch after batch.



Condition and Usage: This Ashe Coffee Roaster is in excellent condition, having been cleaned and serviced regularly throughout its life. It has been lightly used with approximately 200 hours of roasting time. This means you're getting a well-cared-for roaster that still has plenty of life left in it to meet your coffee roasting needs.
Why Choose This Roaster?
Electric operation ensures ease of use and consistent results.
The 10lbs/4.5 Kilo capacity is perfect for small to medium-sized coffee operations.
The included chaff collector helps keep your roasting area clean and efficient.
Regular maintenance and light usage make this a reliable choice for your coffee business.
Don't miss out on the opportunity to acquire a high-quality coffee roaster that's ready to roast your coffee beans to perfection. Whether you're just starting your coffee roasting venture or looking to upgrade your equipment, this Ashe Coffee Roaster is a great investment.
If you're interested or have any questions, please feel free to contact us. Act quickly, as roasters in such great condition tend to sell fast. Make this roaster the cornerstone of your coffee business success!
CONTACT SALES DIRECT @ 650 -569-0011 to discuss getting this to your roastery!
All roasters are sold as-is. Crating and Shipping not included in the listed price.
QUICK VIEW:

CONDITION:
Very Good

LOCATION:
Southern USA
YEAR BUILT:
2014
LAST USED:
July 2023
POWER: 
All Electric 220/240v Single Phase
INCLUDED EQUIPMENT:
Chaff Collector 
BATCH SIZE:

10lbs / 5 K

DIMENSIONS:

Roaster - 18'L x 18"W x 55'H Weight 150lbs (Estimate)

Chaff Collector 19"L x 19"W x 75"H Weight 50lbs (Estimate)