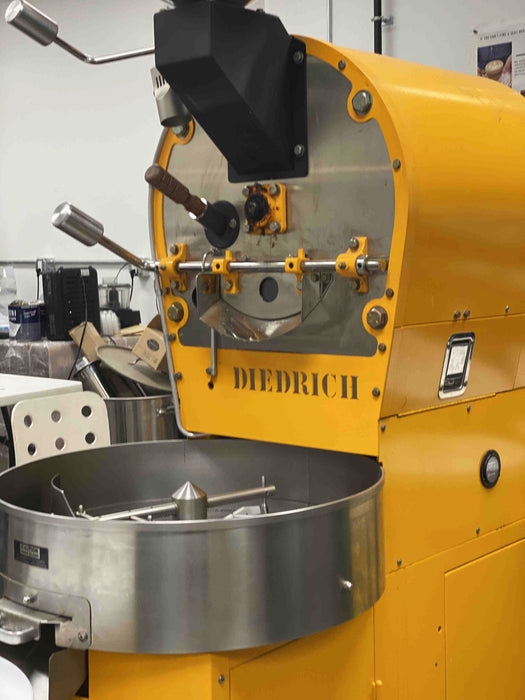 Diedrich IR-5 Coffee Roaster - 2016 Model - Very Good Condition - Used
Save

Liquid error (snippets/product-badge line 32): Computation results in '-Infinity'

%
 Diedrich IR-5 Coffee Roaster - 2016 Model - Very Good Condition - Used

Introducing the 2016 Diedrich IR-5 Coffee Roaster: Your Gateway to Limitless Roasting Possibilities
Are you ready to revolutionize your coffee roasting game? Meet the 2016 Diedrich IR-5 Coffee Roaster, your key to unlocking a world of possibilities. Whether you're a seasoned coffee artisan or just embarking on your roasting journey, this remarkable machine offers a host of features that will take your coffee production to new heights.
1. Unlock Incredible Capacity: With the ability to roast up to a staggering 5 kilograms (11 pounds) of green coffee beans in a single batch, this roaster ensures you can effortlessly meet the demands of your expanding production. Say goodbye to the limitations of small-batch roasting and hello to boundless potential.
2. Experience Revolutionary Heating: The Diedrich IR-5 harnesses the cutting-edge power of Infrared gas burners, a technology that guarantees consistent and uniform heat distribution. This groundbreaking innovation delivers the perfect combination of conductive, convective, and radiant heat, resulting in truly exquisite roasting outcomes. Your coffee will be roasted to perfection every time.
3. Take Command of Perfection: Achieve unparalleled control over your roasting process. With the Diedrich IR-5, you can easily adjust settings to create your desired roast profile, whether it's a light or dark roast, with precision and simplicity. Tailor your coffee to your exact specifications and delight your customers with every cup.
4. Unmatched Efficiency: With the capability to roast up to 40 pounds of coffee per hour, the Diedrich IR-5 ensures impressive productivity without any compromise on quality. Say goodbye to long hours and hello to superior results. This roaster will keep up with the demands of your business.
5. More Than Just a Machine: The Diedrich IR-5 Coffee Roaster is more than just equipment; it's your partner in the pursuit of crafting exceptional coffee. This roaster empowers you to create remarkable coffee profiles that will captivate your customers. It's the tool you need to take your coffee production to the next level.
6. Impeccably Maintained: Rest easy knowing that this IR-5 has been meticulously cared for, with only 5500 hours of use. It has been cleaned and maintained weekly, ensuring it's in top condition for your roasting needs. You're getting a well-maintained machine ready to perform at its best.
7. Flexible Fuel Options: Currently running on propane, this roaster can be easily converted to natural gas, giving you the flexibility to adapt to your changing needs. In fact, the current owner will supply the conversion kit if needed, making the transition a breeze.
8. Data Logging for Precision: The Diedrich IR-5 comes equipped with data logging capabilities, compatible with Cropster or Artisan software. This feature allows you to monitor and fine-tune your roasting process for the best results. Achieve the highest level of precision in your roasts.
Don't miss the opportunity to acquire this exceptional Diedrich IR-5 Coffee Roaster. The owner has lost his lease so he has decided to move into a direction. 
CONTACT SALES DIRECT @ 650-569-0011 to discuss getting this to your roastery!
All roasters are sold as-is. Crating and Shipping not included in the listed price.
QUICK VIEW:

| | |
| --- | --- |
| CONDITION: | Excellent |
| LOCATION: | Southwestern USA |
| YEAR BUILT: | 2016 |
| LAST USED: | September 2023 |
| FUEL: | Propane |
| POWER:  | 110/120v |
| SIZE | 56" L x 48"W x 72" H - 1075 lbs |
| BATCH SIZE: | 5kilo /11lbs |