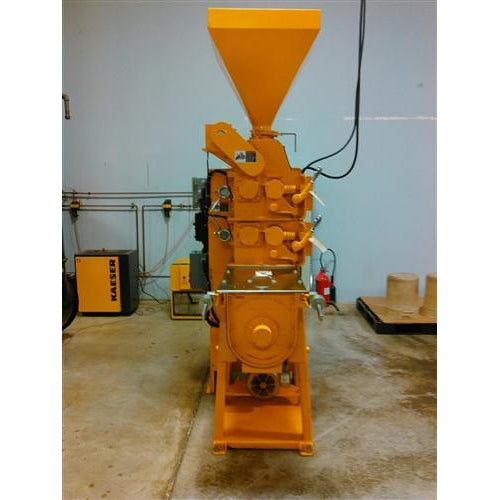 Used MPE 600 FX Coffee Granulizer (Grinder)
Sorry, this item is sold out. But we're here to help! We may have other equipment that isn't on the site yet, so let us know what you need and we'll help you find it.
Contact us
, USA 800-999-1600, International +1-650-556-1333
USED MPE 600 FX COFFEE GRANULIZER (GRINDER)
50 hours of actual use . . . this is an incredible opportunity!
This 600FX (Current Model) MPE Roller Mill is about the most "un-used" roller mill we have ever listed. When this was installed new, it was for only customer needing a precision grind of 150 pounds per month - and that is all it has ever had until last year when even that account was no more - so it was simply turned off and never used any more. We looked at the rolls and even they still look spotless and new. There was a custom 75# hopper built for this machine as you can see.
Features 
Variable Speed Power Feeder
Infinite Roll Gap Adjustment
Rugged Construction and Spring-mounted Rolls
Roll Surface Options and Precision Tolerances 
Integrated Normalizer with Density Control and Chaff Reduction
Extreme Hardness Roll Coatings
High Torque Drive Belt for quiet, low-maintenance operation
Semi-automatic Control System
Integrated Magnet and Pneumatic Slide Gate
Feed Hopper
Stainless Steel or Electroless Nickel Construction
Gas-Tight or Hermetically-Sealed Design Specifications
APPLICATIONS
Espresso (200 450 um): Up to 550 lbs/hr. (250 kg/hr.)
Filter (500 1,000 um): Up to 1,000 lbs/hr. (450 kg/hr.)
CAPACITY: Up to 1,000 lbs/hr. (450 kg/hr.)
SECTIONS: 2 ROLL SIZE: 6 x 8 inches [152 x 203 mm]
POWER: 10 HP [7.5 kw] 50 or 60 Hz Y
YEAR: Actual purchase date was July of 2003 . . . but still only slightly used and still current model