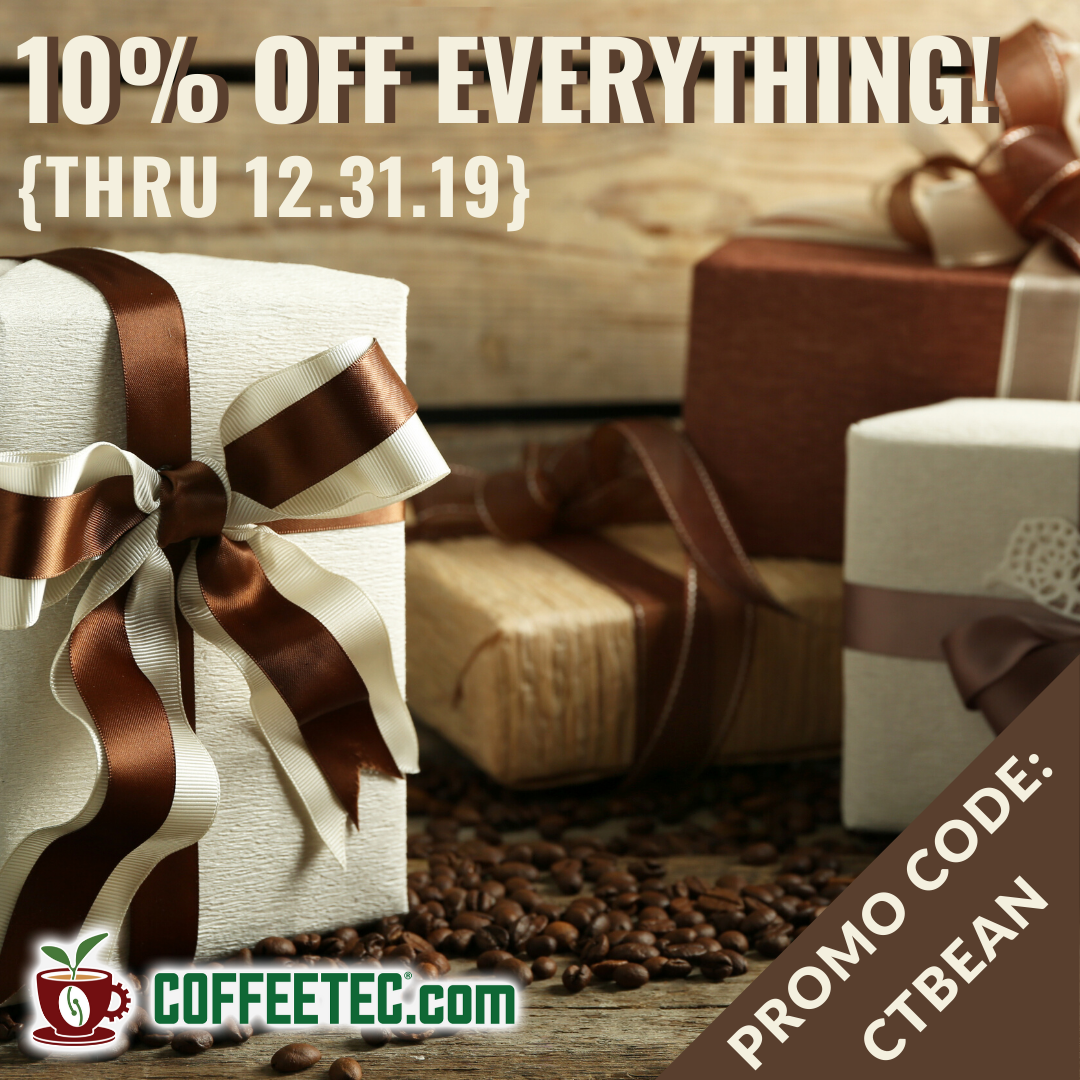 Finish 2019 Strong With Savings Up to 31% On CoffeeTec.com
In the spirit of the holiday season, we at CoffeeTec have a special offer and reminder to help you, our valued customer, save 10% to 31% on your 2019 purchases!
SPECIAL OFFER: 10% OFF EVERYTHING!

From now until 12/31/19, we're giving you the gift of 10% off EVERYTHING in our catalog. CLICK HERE --then select DEPARTMENTS to begin your shopping experience! Upon check out, ENTER YOUR PROMO CODE--  CTBEAN -- to receive your savings!
Finished your 2019 buying but have your eye on one of our 3K+ products for an early 2020 purchase? Now maybe the right time to buy with our 10% OFF GIFT to you.
TAX REMINDER: SAVE UP TO 31%! 
Take advantage of Section 179 of the IRS Tax Code and enjoy an accelerated deduction of the FULL PRICE of qualifying capital purchases in 2019.


How It Works
Assuming 21% tax bracket:
Initial investment: $100,000
Total first-year tax deduction: $100,000 (vs depreciating over five years)
Tax refund on investment: $21,000
Adjusted equipment cost after-tax savings: $79,000
How You Save
Purchase CoffeeTec equipment now through 12/31/19 and save 10%.
Claim Section 179 deduction on this equipment (assuming 21% tax bracket) for additional potential 21% write-off.
Congratulations! You've just saved up to 31%!
To learn more about who and what qualifies, visit the Section 179 FAQs and consult with your financial advisor. You may also find our financing calculator helpful.
How We Help
With CoffeeTec, your new or used equipment purchase is just the very beginning of our relationship. While you enjoy a certain dollar value of cost savings, the fulfillment we get from partnering with you on your roastery journey is priceless. There's no price tag big enough to capture the return on that investment for us. 
 We're always here and have your back. That means we can lend support, guide you, and answer questions about anything and everything coffee-related to help you build the best roastery business of your dreams. We're just a click away.
 Are you ready to finish 2019 strong and save? Let's go!